Japanese-style Hotel "Ryokan"
How to choose a Ryokan
Okami, the Landlady
The Fee System & Prices
Photo Gallery
Origins and History of the Japanese Ryokan

(PDF)

The wonders of Japanese Architecture & the Japanese Garden

(PDF)

An Invitation to the Profound Taste of Japanese Cuisine

(PDF)

Now You Stay in a Ryokan
Receiving Guests
Prelude to Relaxation
To Your Guestroom
Guestrooms of the Ryokan
After Settled Down in Guestroom
Japanese-style Garden
Onsen, Hot Springs
Open-air Hot Spring Bath
Private Open-air Hot Spring Bath
Yukata
Dinner
Massage & Esthetic Treatment
Comfortable Slumber
Breakfast
Checking-out
How to use Chopsticks

(PDF)

The four Seasons and the Seasonal Calendar of the Japanese Ryokan

(PDF)

Glossary of Terms Related to the Japanese Ryokan

(PDF)

How to enjoy staying at a RYOKAN
Ryokan Experience by Expatriates

Feel Reluctant to bathe in the Presence of Others ? - Guestrooms with an Open-air Bath Available
The Japanese value cleanliness and so truly appreciate taking baths. This is also a reflection of the fact that Japan is a country blessed with many hot springs and soothing waters. The custom of taking baths originated in the 6th Century when Buddhism was first introduced into Japan, for Buddhism preached the virtue of bathing, and washing away dust and dirt was regarded as an important duty to be performed by those serving Buddha. Bath halls called yokudo were built in each temple, and the temples invited the common people to take free baths as an act of charity (known as seyoku). Large bathhouses (o-yuya) and bathing halls (yokudo) still remain at Todai-ji and Hokke-ji temples in Nara. Since that time, communal bath houses where strangers bathed together took root, and over the centuries this bathing style permeated deeply into the lifestyle of the Japanese. Even today, at the sento (public bath houses) in town and at hot spring baths in various resorts, people prefer to bathe together in a large bath, which also acts as an ideal place for ordinary people to communicate with each other. Also at ryokans, the daiyokujo (large common bath) is considered to be a place or an opportunity for getting rid of the fatigue from one's journey as well as daily stress, and it is one of the most important factors when choosing a ryokan. For those guests who feel reluctant to bathe in the presence of others, we recommend choosing a guestroom with bathroom attached. Guestrooms with a rotenburo (open-air bath) attachedGuestrooms with a rotenburo (open-air bath) attachedGuestrooms with a rotenburo (open-air bath) attached are also available at some ryokans. Nevertheless, we strongly encourage you to experience the pleasure of the large daiyokujo bath. You might even find yourself enjoying all the different types of baths such as air bubble bath, sauna, utaseyu (bathing while hot water cascades onto your shoulders like a waterfall), neyu (stretching yourself in the bathtub), and so on.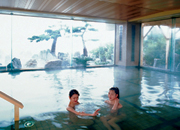 An 'onsen' bathroom


A 'rotenburo'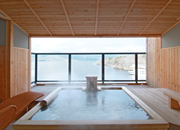 A guestroom with a 'rotenburo'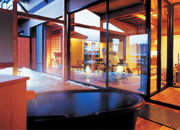 A guestroom with a 'rotenburo'