Japanese-style Hotel "Ryokan"
How to choose a Ryokan
Okami, the Landlady
The Fee System & Prices
Photo Gallery
Origins and History of the Japanese Ryokan

(PDF)

The wonders of Japanese Architecture & the Japanese Garden

(PDF)

An Invitation to the Profound Taste of Japanese Cuisine

(PDF)

Now You Stay in a Ryokan
Receiving Guests
Prelude to Relaxation
To Your Guestroom
Guestrooms of the Ryokan
After Settled Down in Guestroom
Japanese-style Garden
Onsen, Hot Springs
Open-air Hot Spring Bath
Private Open-air Hot Spring Bath
Yukata
Dinner
Massage & Esthetic Treatment
Comfortable Slumber
Breakfast
Checking-out
How to use Chopsticks

(PDF)

The four Seasons and the Seasonal Calendar of the Japanese Ryokan

(PDF)

Glossary of Terms Related to the Japanese Ryokan

(PDF)

How to enjoy staying at a RYOKAN
Ryokan Experience by Expatriates




Various Encounters with the Unknown

Experience the elements of Japanese culture and customs: living in a room with Tatami (straw mat) flooring, changing into a typical Yukata (robe) after taking an Onsen hot-spring bath, sleeping on a Futon (bedding) put down directly on the Tatami floor, and etc. in a ryokan, a traditional Japanese hotel.

Ryokans are accommodation facilities which are imbued with the traditional culture of Japan. As a result, it is quite understandable that foreign guests are often perplexed by many things when staying at a ryokan. Nevertheless, it is also true that various encounters with the unknown will greatly deepen the impressions and excitement of your journey. To be captivated by a totally different landscape, to enjoy experiencing something new, to try out local flavors, all for the first time ... these are surely what make any journey exciting, allowing you to become immersed in a special sense of freedom that cannot be savored in daily life. In Japan, there is the following proverb: "Go ni itte wa go ni shitagae" (literally, "When in a village, do as the villagers do", which is equivalent to the English proverb, "When in Rome, do as the Romans do").

The very act of coming into contact with the traditions, culture, climate and customs of the country you are visiting or the land through which you are traveling is in itself particularly precious. If you have any queries or comments, please do not hesitate to inform the ryokan staff. They will, of course, do their best to make your stay an agreeable one without any inconvenience, by responding to your needs in a friendly yet thoughtful manner.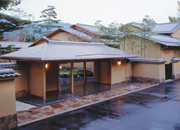 The front-gate of a first-class ryokan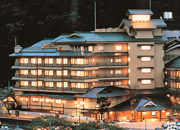 A modern ryokan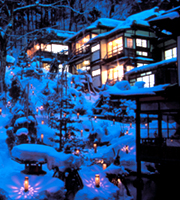 A traditional ryokan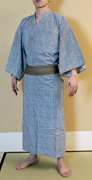 Yukata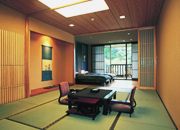 A Tatami-matted room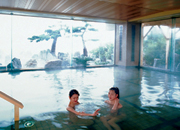 Onsen, hot-spring bath